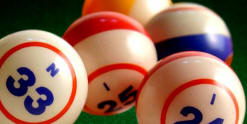 BINGO
Every Friday evening, the Prospect Heights Volunteer Fire Company runs a bingo that benefits the fire company operations. This weekly bingo has been running for over 45 years and we continue to look forward to many more! Come join us and you may find yourself lucky! Even if the bingo balls do not bounce in your favor, join us for a night out of fun and relaxation!
​
Doors open at 6:00 p.m. and games begin at 7:30 p.m. with an early-bird special. The last game ends approximately 9:45 p.m. As per state regulations, all games are now on paper. Admission is $2. Refreshments are available!

Total payout (following NJ laws for games of chance) is $1,000. In addition, there are two 50/50 special games that are played for additional payouts beyond the $1,000. The jackpot special is $200.

No one under the age of 18 may play or exchange cards, there is no tipping and no reserving of seats. As per NJ statute, the bingo hall is smoke-free. A 10 minute "half-time" is allotted for food and smoke break.

If bingo is to be cancelled because of inclement weather, notice will be made to everyone by Friday, 3 pm via this website, as well as the PHVFC Facebook and Twitter pages. Please do not call the firehouse!
---